News
---
01 March 2016

11 September 2015

On September 10 Thoroughbred Racing Commentary published an interview with Michael Dickinson regarding his reasons for retirement and why he has decided to return to training racehorses:

Legend is a sad word, virtually stripped of its original meaning and since rendered almost meaningless by repeated abuse. But, if it can still be usefully applied to anyone in racing, it has to be used to describe Michael Dickinson.

Read More

30 June 2015

On June 4, 2014 the Equine Veterinary Journal published an independent, refereed paper "Analysis of Stress Fractures Associated with Lameness in Thoroughbred Flat Racehorse Training on Different Track Surfaces". Over a 10 year period involving 1075 thoroughbred racehorses.

Group A: 27% Fractures
Group B: 14% Fractures
Tapeta Farm: 2% Fractures

Read More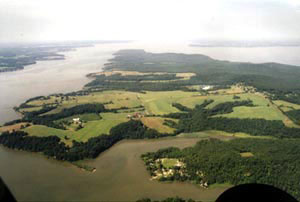 Location
Located on 250 acres at the top of the Chesapeake Bay, Tapeta Farm is a training center like no other in the USA. It was designed by renowned trainer Michael Dickinson combining the latest, most innovative technology in equine care with fundamental "good sense" horse husbandry. Tapeta Farm is located mid-way between New York City and Washington, D.C. and is within easy vanning distance to 11 major race tracks.
Location Details
Amenities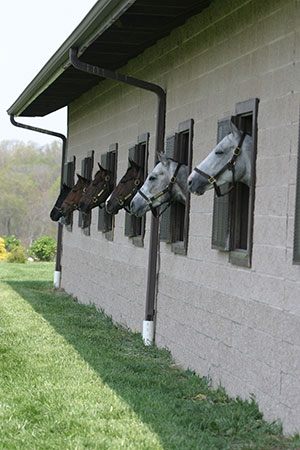 We believe in giving our horses a view and 24 hours a day access to fresh air.
More farm amenities
Two Tapeta tracks - one round and the other a one turn mile up a hill. Resurfaced with a Tapeta 10, the much improved version which has had 10 changes from the original formula
Six turf tracks - two for each season
Irrigation for three turf tracks for seven furlongs
Hills for training
Four different exercise areas
A new design on the turn of the Tapeta track
Over 27,000 ft. of pipe in the Noah's Ark Turf Track
Enzymes added to the drought-weather turf track to combat firm going
250 acres
50 acres of turnout
12 turnout paddocks covering 20 acres
8 grass pens, moveable daily, on 30 acres
Areas for grazing organic grass
2 sand pens
An outdoor swimming pool
6 air changes per hour in every stall
High altitude stables
A hyperbaric chamber
Spa
Vibrating platform
Infrafred solarium
Auxiliary energy system
A bio-mechanical analyzer
A bronchial delivery system
A bio-marker identification kit
A scale to weigh the horses
Well water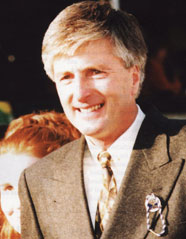 Trainer
The training of racehorses has changed very little over the last 50 years. Training at a racetrack in the USA is limited by the lack of space, grazing, time, freedom and privacy as well as loads of restrictions. This leaves trainers with very few options.
In 2007 Michael Dickinson retired from training (at the request of his wife Joan Wakefield) to focus on the expansion of Tapeta Footings overseas (now in 10 countries). At that time Michael had no intention of training thoroughbreds again, but over the next 4 years he found time to look at different training methods picked up from other industries. He then spent 3 years conducting trials on those methods where he also discovered most of them do not work, but he found that some were most effective.
"We are not eliminating the many good methods used by trainers today we are just adding a lot of new ideas. It will be an aggregate of marginal gains. All these facilities at Tapeta Farm gives us a lot of levers to pull."
Learn more about Michael Dickinson