Tapeta Farm Amenities: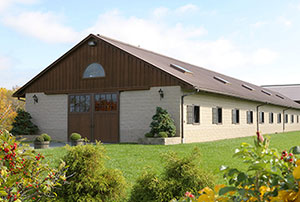 Custom Designed Stables
The centerpiece of the facility's impressive layout is the 40-stall barn built by skilled Pennsylvania Dutch Amish Craftsmen. Each horse has its own outside window providing a view and plenty of fresh air and over each window is a 3-foot overhang to protect them from rainfall. Half of the stalls feature friendship grills so the horses can see each other, as they tend to relax better within sight of another horse.
Complete List of Amenities
Two Tapeta tracks - one round and the other a one turn mile up a hill. Resurfaced with a Tapeta 10, the much improved version which has had 10 changes from the original formula
Six turf tracks - two for each season
Irrigation for three turf tracks for seven furlongs
Hills for training
Four different exercise areas
A new design on the turn of the Tapeta track
Over 27,000 ft. of pipe in the Noah's Ark Turf Track
Enzymes added to the drought-weather turf track to combat firm going
250 acres
50 acres of turnout
12 turnout paddocks covering 20 acres
8 grass pens, moveable daily, on 30 acres
Areas for grazing organic grass
2 sand pens
An outdoor swimming pool
6 air changes per hour in every stall
High altitude stables
A hyperbaric chamber
Spa
Vibrating platform
Infrafred solarium
Auxiliary energy system
A bio-mechanical analyzer
A bronchial delivery system
A bio-marker identification kit
A scale to weigh the horses
Well water